Best Android spy software to catch cheating spouse
Best Android spy software to catch cheating spouse. Silently record SMS text messages, GPS location, and call information, on your Android Phone!
Seeing the seven deadly tell tale signs that your husband is being unfaithful but you're afraid to have 'the talk' with him because you don't want to risk straining the relationship otherwise.

Honesty is certainly the best policy and you have every right to voice your concerns but the risk of throwing the infidelity card at him is too big because you can't withdraw it - things won't be the same if your suspicions are baseless.

The Seven Deadly Signs: Watch Out!

1. Time is the essence: - Do you find him leaving early and coming home later that usual? The work engagements he mentions to excuse himself don't really add up to the bank account though.

2. Playing dress up: - My my, he certainly can't be giving that much importance to his appearance when he's having to work overtime! Not a single miss on the gym schedule these past weeks. Hmm, he's better stay home longer if he's doing all that for you!

3. No secrets in relationships: - Secret emails and social media identities. - Is he being blackmailed or what? Something is definitely under the rug

4. Where's the money going? A bizarre number of unwarranted transactions on your bank statement? You are right to wonder where it's flying off, or to whom.
Is your spouse busy in late-night calls and text messages? Are you not getting the time, attention, care and love you want - behavior different than usual?
Going on weekends for the job and staying late in the office than usual? Going from home early and returning from work late? Being sweet like honey with you? Or getting into quarrels on petty issues, which are so minor that one would not even think to spend a minute on discussing it?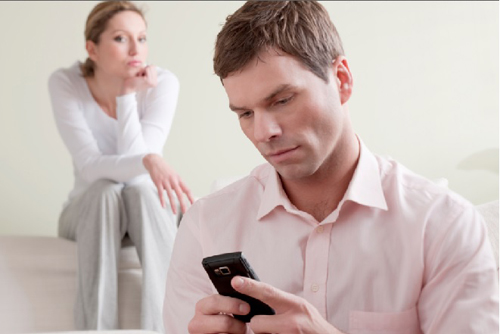 Is she not responding to your phone calls and text messages? Hiding cell phone and emails from you - ignoring you like you don't exist?
If all the above mentioned things are happening with you or something other than that, which is leading to an increase in depression for you. You are giving 100% to the relation but it's not happening the way you wanted it to be.
These are all the signs which show you that something is fishy here. The person whom you trust blindly is actually cheating on you. Your heaven made relation is turning into a living hell.
But what if your spouse is dead busy and you think that you are being cheated on is just pure imagination.
A recent research conducted in the United States shows that for first time marriages the divorce rate is almost 30%. There are two common reasons for early marriage divorce former is that one's spouse is cheating on the other and later is that a spouse is in doubt that he/she is being cheated on.
A question arises here, how can we avoid these two issues? Well, the answer is you can't avoid the former issue, it's not in your control, but you can avoid the later issue by using Android spy apps. Here best Android spy software comes handy an application that can cure your hallucinations your spouse is cheating on you.
These apps come with numerous features. You can easily check all the text messages which are in the memory, or which have been sent, or which have been received. The same thing is for calls; outgoing calls, incoming calls, last call made, duration of calls anything which you can think of.
Let's enter into the BOND movie; via Android spy apps you can easily tap into your spouse's phone without even getting noticed. These apps are 100% undetectable, your spouse won't even have a clue that his/her's phone is being tapped.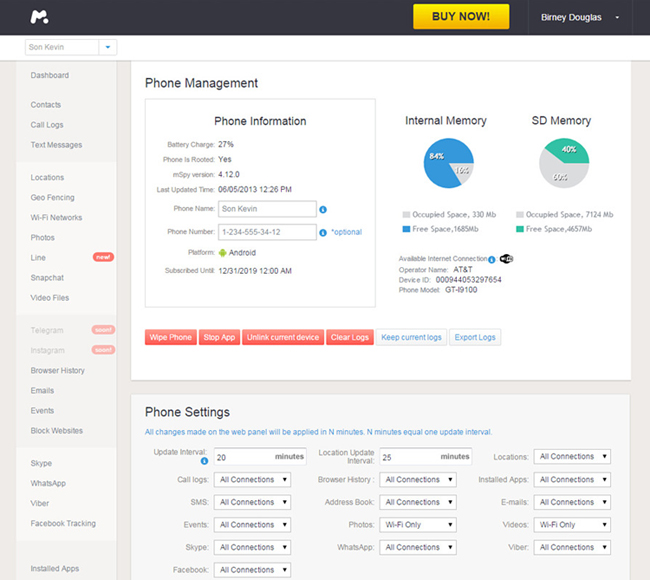 You can listen conversations being made even when the phone is switched off. You can record all the calls being made and received and take a look at the pictures and videos stored on the phone along with contacts.
You can view the GPS location of your spouse and travel routes. You can also sneak into task manager or to do list to view daily meetings and tasks to be done.
It acts as an online detective into your spouse's pocket and works in backgroung. So! What are you waiting for? Grab a copy of an Android spy app at a nominal price, and save your future, your kid's future and the future of your relationship? The choice is yours...
Supported Phones: All Android devices and firmware versions upto 4.4
Frequently asked questions
Does the SMS spy also spy on chat apps like Skype or WhatsApp?
Yes, but to monitor live chat apps like WhatsApp, the phone will need to be rooted first.
Can the spy be detected, is it listed in the background service?
No, the SMS spy for android is stealthy, if it can be so easily detected it would defeat the purpose of spying. But there can be traces in certain scenarios, say if you have the spy's uploading media feature turned on, the spy will use considerable amount of internet data to upload the videos, photos to the server, if may take a toll on your data usage and trigger the alert of internet usage quota. Generally, this doesn't affect text spying because text are small in term of data size, it won't manifested in the data usage alert.
How long it takes to plant the SMS spy in the target phone and have it activated?
Minutes.
Do I need to root my galaxy to spy on the SMS?
No, although the software does require root access to spy on third part apps like WhatsApp, Skype, it can monitor stock apps like message, mail, calls without root access.
Can deleted messages be retrieved with the SMS spy?
If the messages are deleted immediately after received, chances are that the message doesn't get uploaded. If the messages stay for a minute or so, it will be visible in your control panel even after it's deleted.
Other useful guides:
Best iPhone Spy App - Spy on iPhone freely
Galaxy Note Spy App - Best Spy Software for Galaxy Note 20
Best Android Spy App - Best Hidden Spy Apps for Android
Skype Spy App for emoloyers to monitor their conversations
Galaxy S21 Spy App - Spy on Galaxy S21/S21+/S21 Ultra
Top Spy Apps - Spy on Android and iPhone remotely
How to Spy on iPhone 12 without anyone knowing
Spy on iPhone 12 mini via iPhone 12 mini Spy App
Share this post
To be informed of the latest articles, subscribe: